---
This handbook is designed to guide you through your role, the responsibilities you carry, the issues you face and the resources available to you as a Wyoming Library Board Member. The Wyoming State Library Division of the Wyoming Department of Administration and Information can offer additional help to you and your library in the form of additional resources, training and consulting on any of the topics in this guide, or any other issues you may face.
Please do not hesitate to call or email our Library Development Office if we may assist you. A toll-free number is available for your use to discuss issues and policies, request presentations or seek board training. 1-800-264-1281. Email assistance is available at refdesk@wyo.gov.
Board Member Handbook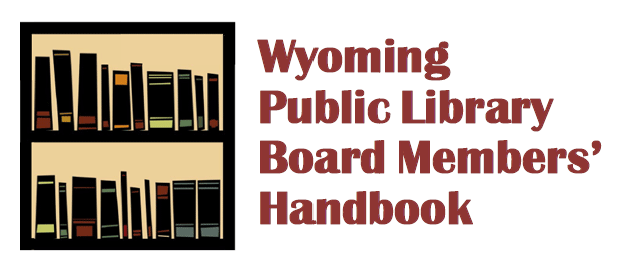 Supplementary Materials and Selected Links
Library Trustee Resources links and training video (26 minutes)
Other states' handbooks

Policy Resources
Planning
Board Evaluation
Library and Community Data
Training
Legal
Personnel
Wyoming State Library
---
Questions? Contact the Wyoming State Library's Library Development Office, or call 307-777-6333 for assistance.
| | |
| --- | --- |
| | The Wyoming Public Library Board Members' Handbook is produced in part with Library Services and Technology Act federal funds awarded to the Wyoming State Library program from the Institute of Museum and Library Service |