---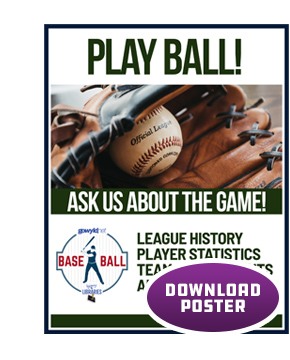 April 2019
Baseball season is here—with opening day coming earlier than any season before—and we've got you covered. Check out these resources to celebrate the arrival of spring and America's favorite pastime.
Information for Librarians
Review the resources we've assembled here to promote this resource in your library. These items are intended to assist the the promotional efforts of Wyoming librarians as they reach out to their patrons. We hope you find them useful. Feel free to download and distribute according to your needs.
Remember, all these easy-to-use items are from brought to you by GoWYLD.net and the Wyoming State Library! It's all good stuff.
---
RESOURCES
Monthly Video Tutorial
THIS EVENT HAS BEEN POSTPONED
We do not yet have a date and time set for this event. We will announce it once it has been rescheduled.
Celebrate the opening of baseball season with an exploration of America's pastime in GoWYLD.net. Whether historical, statistical (oh, how fans love statistics!), or current, you are sure to hit a home run!
Library Marketing Links & Downloads
---
PC users:right-click the download links to save these items to your computer;
MAC users:you already know what to do, but just in case:enable Secondary Click in System Preferences and tap two fingers on your mouse to make the right click menu appear.