---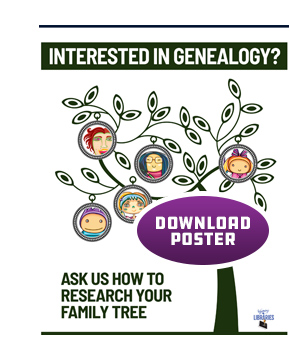 March 2019
As winter winds down, the month of March feels like a good time to visit your local library for some productive genealogy research. So we're focused on Ancestry Library, the largest online family history resource available. Ancestry Library edition provides access to family history documents that record the lineage of individuals from the United States, Canada, the United Kingdom, Europe, Australia, and more. Search census, immigration, birth, marriage, and death records and other primary sources. Remember, Wyoming library users must use this resource in their local library, but it's worth the trip!
The resources and links below will help Wyoming librarians promote and offer services related to all things genealogy for their patrons. Remember, all these easy-to-use items are from brought to you by GoWYLD.net and the Wyoming State Library! It's all good stuff.
Information for Librarians
Review the resources we've assembled here to promote this resource in your library. These items are intended to assist the the promotional efforts of Wyoming librarians as they reach out to their patrons. We hope you find them useful. Feel free to download and distribute according to your needs.
---
RESOURCES
Monthly Video Tutorial
Find Family in Wyoming Newspapers
Join Chris Van Burgh for an exploration of Wyoming Newspapers (1849-1922) and how you can use them to find bits and pieces about your relatives' time in Wyoming. Did they own a business? Play bridge? Serve in the war? So much to find!

-March 19th
-11:15

Invite Your Attendees: Click Here to Register
Webinar ID: 533-627-739
Library Marketing Links & Downloads
---
PC users: right-click the download links to save these items to your computer;
MAC users: you already know what to do, but just in case: enable Secondary Click in System Preferences and tap two fingers on your mouse to make the right click menu appear.