---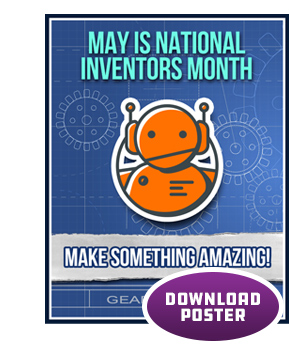 May 2019
May is National Inventors Month, a month-long celebration that honors the spirit of invention and creativity. The WSL wants to point you to our own homegrown database, Wyoming Inventors. Check out this terrific resource and learn more about Wyoming inventions and the men and women who created them.
Information for Librarians
Review the resources we've assembled here to promote this resource in your library. These items are intended to assist the the promotional efforts of Wyoming librarians as they reach out to their patrons. We hope you find them useful. Feel free to download and distribute according to your needs. Remember, all these easy-to-use items are from brought to you by GoWYLD.net and the Wyoming State Library! It's all good stuff.
---
RESOURCES
Monthly Video Tutorial
Join Karen Kitchens of the Wyoming State Library for a look at the updated Wyoming Inventors Database. Learn search tips for this database which includes all United States patents issued to inventors within the present-day boundaries of Wyoming. After registering, you'll receive a confirmation email containing information about joining the webinar.
Wednesday, May 15, 2019 (10-11 am)
Library Marketing Links & Downloads
---
PC users:right-click the download links to save these items to your computer;
MAC users:you already know what to do, but just in case:enable Secondary Click in System Preferences and tap two fingers on your mouse to make the right click menu appear.