---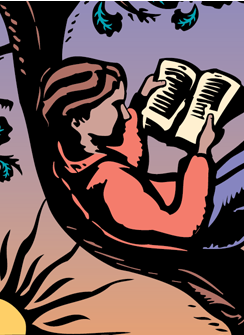 The Dog Days of Summer
Holy cow, it's already time for the July 2018 edition of our monthly mini-marketing campaign.
What's going on in America during the month of July? How about our nation's 242nd birthday for starters? There's also National Dance Day, National Chili Dog Day, and National Ice Cream Month. In fact, there's at least one food or drink celebrated on every single day of July, the only month of the year that can make that claim.
July also includes Shark Week (since 1988!), Group B Strep Awareness Month (?!), and Ka Hae Hawaiʻi Day.
And let's not forget July 10th, Wyoming Statehood Day.
For July we're highlighting the proud library tradition of summer reading and promoting NoveList Plus, a powerful reading resource available to Wyoming residents by way of GoWyld.net. NoveList Plus is a full-featured database that provides recommended reading lists. According to its inventor Duncan Smith, NoveList Plus is a "secret weapon for keeping track of all the great books to recommend."
Visit Ebsco's NoveList Plus and find inspiration for what to read next.
---
Information for Librarians
Review the resources we've assembled here to promote NoveList Plus in your library. These items are intended to assist the the promotional efforts of Wyoming librarians as they reach out to their patrons. We hope you find them useful. Feel free to download and distribute according to your needs.
GoWyld.net Database of the Month Video Tutorial

NoveList Plus
Novelist Plus for finding your summer read (and any other time of the year)!
Library Marketing Downloads
---
PC users: right-click the download links to save these items to your computer;
MAC users: you already know what to do, but just in case: enable Secondary Click in System Preferences and tap two fingers on your mouse to make the right click menu appear.