---
Click on feature description or scroll down for examples.
Local customization;
Normal browser navigation (e.g. back button);
New items carousel on home page;
Faceted search results allow for easy limiting;
Search term highlighting;
"Did you mean" search results and fuzzy match searching, compensating for misspellings;
Integration of digital services items in results (eResource Central);
Federated search results available for every search;
Language translation can be enabled;
Facebook 'like' integration (optional);
Library information shows in popup on any page.
---
Examples
New Items Carousel (aka "Book River")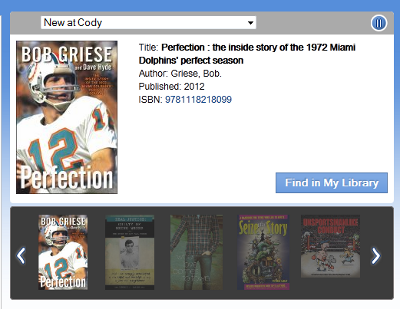 These items only appear one at a time and there is no way to output this list as a search or a single page;
The new items lists are not created the same way as the new materials lists currently are in WYLDCAT;
Lists are not as extensive as the recommended and award winners lists in WYLDCAT.
---
Facets (Limiters)
These limits are created from information on the bibliographic and item records retrieved by the search;
User can either include or exclude items from the facets lists;
Labels for these facets can be changed;
Facets can be reordered;
Facets can be hidden.
---
Did You Mean / Fuzzy Match Search Results

* Note that even though the suggested spelling is still incorrect, it is close enough that the fuzzy match searching in Enterprise will return relevant results
Clicking on "Did you mean Tyranosorus Rex" has these results: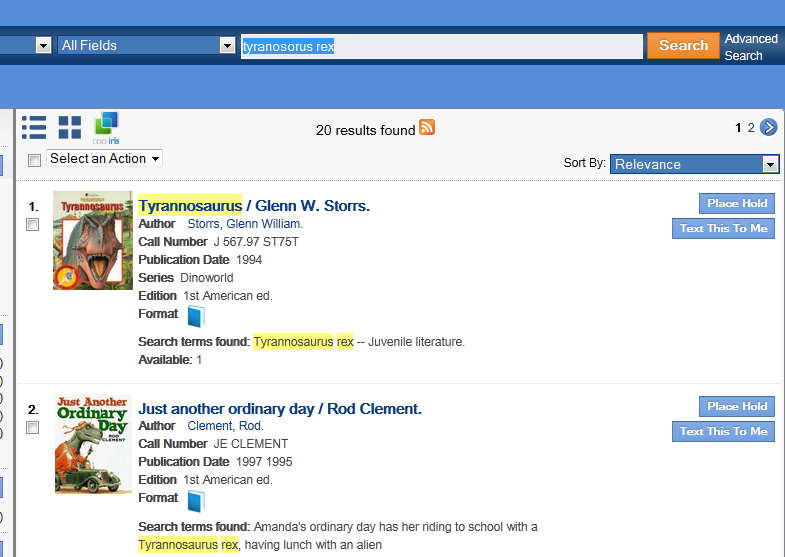 ---
Relevancy Ranking
Searches like "The Help", "Bud Not Buddy", "And then there were none" retrieve relevant results at the top of the hitlist.
Relevance is the default result order. Other options for sorting are:
Publication date ascending;
Publication date descending;
Title;
Author.