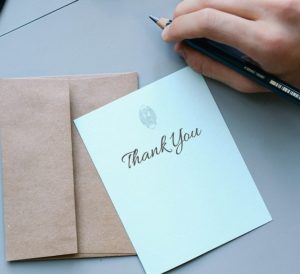 Effective thank yous are key to an effective fundraising program. Gratitude keeps your library donors coming back. They want to know they are appreciated, and that their gifts make a difference.
CauseVox recently offered a list of 20 Unique Donor Thank You Ideas. Some might work better for you than others, but all are worth considering. Read the full post for details, but here's the short list:
Send them a handwritten note
Thank them publicly in your newsletter or in a building display.
Highlight them on social media
Mention them in your annual report
Explain where their donations went and the impact the donor had
Send an immediate email confirmation
Make a video thanking them
Visit them personally.
Use a tier-system of recognition
Present them with a plaque
Throw a donor appreciation party
Hold a telephone thank-a-thon
Give them a behind-the-scenes look at your library
Partner with a local business for a donor discount
Ask those who've benefited from donations to make them cards.
Sing (literally) their praises! (Create and record a song.)
Ask them if they want to volunteer at or advocate for your library.
Be aware of milestones, such as weddings, engagements, and births.
Acknowledge the anniversary of their first donation.
Create a "donor spotlight" to highlight someone on your website or in your newsletter.
Do you have a unique way to thank donors, or are you planning one? Share it in the comments!