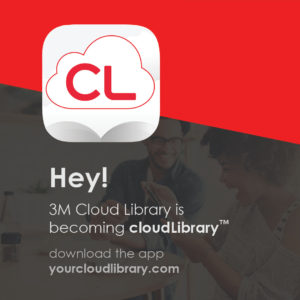 About a year ago, the 3M Library Section merged with another company, Bibliotheca. 3M Cloud Library, one of the digital content resources in GoWYLD.net,  is one of the products involved. They have been slowly moving to new servers, etc, but now it is actually time to update the product name and app icon. Exact dates are not yet known; current timeline is:
Mobile apps & ChromeBooks – week of September 19
Computer software – week of October 3
Bibliotheca has a marketing kit of graphics to both promote the service and to let patrons know of the change. The graphics include bookmarks, shelf talkers, website and social media images, and more — many of which you can customize with your own library's logo or information.
What's changing?
The name of the app will become cloudLibrary and the icon will change to this new art.  You may see the name Bibliotheca in "about us" sections of the app. No functionality will change.  Checkout, browse, and reading will all remain the same.
What do I need to do?
Update your software or app when the new version for your device is available.
Android, iOS (iPad/iPhone), ChromeBooks– update your app when prompted by the device.
Computers (Windows or Mac) – the software will notify you that it has downloaded the new version the first time you open it after the update. Closing & reopening your software should allow it to finish installing.
Kindle Fires – due to the way these devices work, you will need to uninstall the app and download a fresh copy.
Questions?
Contact Desiree Saunders at the Wyoming State Library at desiree.saunders@wyo.gov or (307) 777-6258.