Reposted from Association for Rural and Small Libraries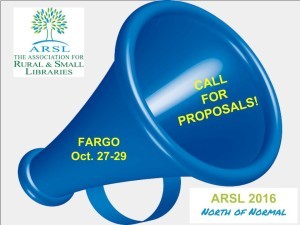 The Association for Rural & Small Libraries (ARSL) is accepting proposals for break-out session presentations for the 2016 Conference to be held in Fargo, North Dakota on October 27-29. The theme for ARSL 2016 is "North of Normal,"  and they'd like to hear about creative ideas that take your library beyond normal. Proposals for these 1-hour sessions may be submitted using ARSL's online form. The deadline to submit is March 21, 2016. Those who submit a proposal will be notified whether or not their proposal was accepted by April 15, 2016.
ARSL reminds presenters that workshops must be geared toward the small and rural library audience, and those that are practical, hands-on, and how-to are preferred. This is not the proper venue for post-graduate dissertations or marketing products. Additional instructions are included on the form.
Workshop presenters will receive one complimentary conference registration per workshop title selected, i.e. a team of three presenters working on one workshop will receive one complimentary registration.
Learn more at arsl.info/proposals-for-presentations-2016-arsl.