The Wyoming State Library runs regular Wyoming-related book reviews on this blog and in the Outrider newsletter. Would you like to be on our reviewers list? Contact Susan Mark at susan.mark@wyo.gov or (307) 777-5915.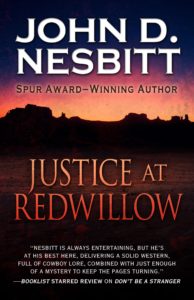 Justice at Redwillow
By John D. Nesbitt
Waterville, Maine : Five Star, a part of Gale, Cengage Learning, [2015]
Set in the 1800s in Wyoming, this frontier mystery will keep you wanting to read late into the night. Jim Fontaine is settling into his homestead near Redwillow. You'll meet Nora, the sister of the murdered saloon girl and Jim's new friend Charlie Drake, who is arrested for the murder. Old Ben Spoonhammer, the grizzled old bone hunter that Jim used to partner with, and of course, Aldredge — is he the bad guy or just in the wrong place at the wrong time? And who is the "limping woman" and what does she have to do with the murdered call girl? There are a lot of twists and turns in this mystery, and it will keep you guessing right up until the very end. Jim and Nora follow a trail of old crimes, and new murders to help bring about justice at Redwillow. If you enjoy Craig Johnson or C.J. Box, you should enjoy this novel and may have found a new author to follow.
Reviewed by Sharon Mikesell, Reference Librarian
Laramie County Library System, Cheyenne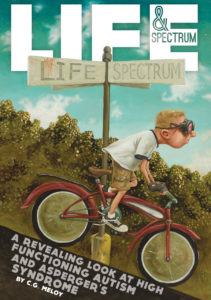 Life and Spectrum: A Revealing Look at High Functioning Autism and Asperger's Syndrome
By C.G. Meloy and illustrated by Zachary Pullen
Creative Combinations, Copyright 2013
This book was quite a surprise and very interesting. This is the first book I have read that tells the view of Autism from the perspective of the person. I read this book straight through. Each page opened up to a new perspective and experience. C.G. Meloy has a way with expressing his life so that "NTS" (Neurotypical or normal person) can understand "aspies" (high functioning autistic people). Each chapter heading invites the reader to experience another aspect of C.G.'s world. He is straightforward and gives a remarkable insight to how he deals with the world and how the world deals with him. To quote C.G., "this book is not intended to be an introduction to high functioning autism or Asperger's syndrome … my comments are my opinions. They happen to be correct, but they're just my opinions. This book is idiosyncratic and scattershot-just like my brain." Libraries of all types would benefit from adding this book to their collections. It would appeal to YA's and adults. This is also an excellent first person narrative for the common core folks.
Reviewed by Michelle Havenga, Children's Librarian,
Fulmer Library, Sheridan County Public Library System, Sheridan