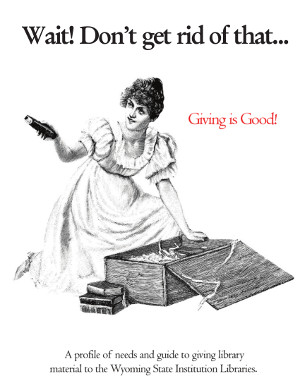 Wyoming is home to 13 state institution libraries that need your help. These libraries serve the elderly, troubled youth, incarcerated adults, and special populations that are deaf, hard of hearing, have one or more mental illnesses, or have a mental or physical handicap. They play an important part in the lives of many Wyoming residents — they provide one of the only places for education, recreation, and entertainment for this small, but important, segment of the population.
The institution libraries operate with limited collection funds, so they need your extra material, your gift books, your soon-to-be-sold-in-a-book-sale surplus titles, your just-replaced technology items that are in good condition and still work, and any other titles that will not fit on your shelves, but are too good to destroy.
Wait! Don't  get rid of that … Giving is Good! is a resource guide containing profiles of the 13 state institution libraries. The guide lists the library material, technology equipment, and other recreational supplies that each institution library manager feels is most needed in their collection, the type/genre of items that are not needed or allowed in their collection, and contact information for each of the institution library managers, and an index of material needs (for easy giving).
It is important to contact the library manager first before sending any donations to make sure they can use your items. If you have any questions about giving items to the Wyoming state institution libraries, contact Thomas Ivie at the Wyoming State Library, thomas.ivie@wyo.gov, (307) 777-6330.