The solar eclipse is nearly upon us. On Monday, August 21, libraries across Wyoming will celebrate this celestial event with patrons and visitors.
The Wyoming State Library has a handy, ready-to-print flyer on the eclipse for your use. You can also check out our Wyoming and the Solar Eclipse 2017 for handy links and a webinar recording.
We spotted these handy things to know on the Laramie County Library System blog in a post by Jennifer Rife, Design and Humanities Coordinator at LCLS. She has graciously allowed us to share them:
*Most* of What You Need To Know for the August 21 Wyoming Eclipse
Are you ready for the Great American Eclipse of 2017?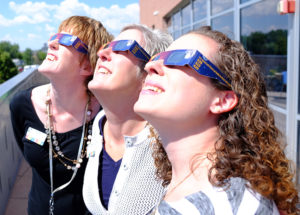 Here at the library we've been preparing for months, and we're ready! Being a library, we are a source for finding accurate and reputable information. Our staff has fielded lots of questions about the eclipse, and we're hoping to give you answers and sources to some of the most common inquiries. Here's some information to get you started, plus links to reliable sources help you find more.
WHAT TO EXPECT:
SAFE VIEWING TIPS:
TO TAKE PHOTOS:
MORE COOL STUFF ABOUT ECLIPSES: