Free, online, continuing education events for March 27-31 from the Wyoming State Library Training Calendar. Descriptions and links are below. You can subscribe and view the events in your calendar software, or you can find all the events on our Training Calendar.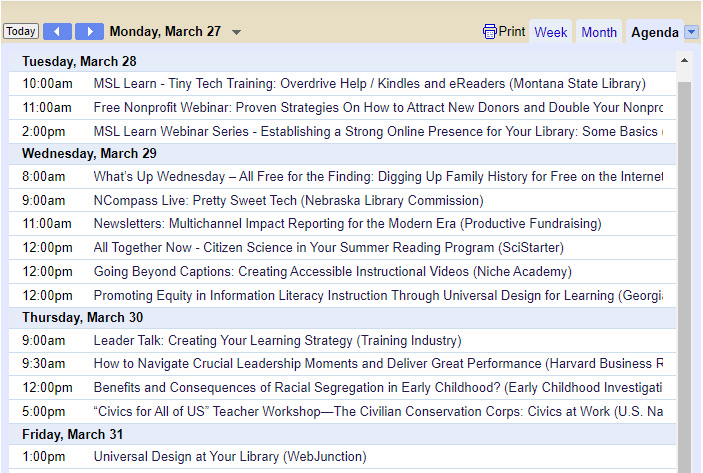 All times MDT
Tuesday, Mar 28 (10-10:30 am)
MSL Learn – Tiny Tech Training: Overdrive Help / Kindles and eReaders (Montana State Library)
This Tiny Technology Series is appropriate for Public Library directors, staff and trustees. These trainings are 30 minutes long and cover two related topics for 15 minutes each. Overdrive Help: where to go for help, drill down into different sections, and support tickets. Kindles and e-readers: drilling into the Kindle help section, review supported types, and explain the differences in behavior between Kindles and other e-readers with Overdrive.
Tuesday, Mar 28 (11-11:45 am)
Free Nonprofit Webinar: Proven Strategies On How to Attract New Donors and Double Your Nonprofit Revenue (CharityHowTo)
Nonprofit growth is not theory, it is practice. We will show you the real stories and case studies from other nonprofits and charities that successfully unlocked their new donor and revenue growth strategies.
Tuesday, Mar 28 (2-3 pm)
MSL Learn Webinar Series – Establishing a Strong Online Presence for Your Library: Some Basics (Montana State Library)
Participants will begin to evaluate website needs and goals, learn about options for web presence, and take away some low cost options for creating and maintaining their own library web presence.
Wednesday, Mar 29 (8-9 am)
What's Up Wednesday – All Free for the Finding:  Digging Up Family History for Free on the Internet (Indiana State Library)
This presentation is a sampling of the best, free websites for genealogy.  Attendees will become versed in research tips, general genealogy websites, Indiana genealogy websites, immigrant genealogy websites, British genealogy websites, and newspaper websites.
Wednesday, Mar 29 (9-10 am)
NCompass Live: Pretty Sweet Tech (Nebraska Library Commission)
Special monthly episodes of NCompass Live! Join the NLC's Technology Innovation Librarian, Amanda Sweet, as she guides us through the world of library-related Pretty Sweet Tech.
Wednesday, Mar 29 (11-12 pm)
Newsletters: Multichannel Impact Reporting for the Modern Era (Productive Fundraising)
Join fundraising master trainer, Chad Barger, CFRE, for a workshop focused on reporting impact to our donors via newsletters. We'll examine how print/mailed communications work in tandem with email to ensure our donors are informed and engaged. And we'll look at processes and tools to simplify the development of these vital fundraising tools. Multiple optimized newsletter samples will be shared as well.
Wednesday, Mar 29 (12-1 pm)
All Together Now – Citizen Science in Your Summer Reading Program (SciStarter)
Jumpstart your summer reading preparation! This year's theme All in Together Now ties in perfectly with Citizen Science and the resources developed by the National Citizen and Community Science Library. Join us to learn more about preparing for the 2023 Summer Reading.
Wednesday, Mar 29 (12-1 pm)
Going Beyond Captions: Creating Accessible Instructional Videos (Niche Academy)
Many libraries offer instructional videos for use on their websites. Unfortunately, research shows that oftentimes these videos are inaccessible to patrons with disabilities. In this webinar, Melissa Wong will help participants learn to create fully accessible instructional videos. The webinar will begin with a brief overview of disability that puts accessibility practices into context, then introduce design practices that support accessibility, including planning, narration, typography, and graphic design. Finally, the workshop will introduce standards and practices for captions, transcripts, and descriptive audio.
Wednesday, Mar 29 (12-1 pm)
Promoting Equity in Information Literacy Instruction Through Universal Design for Learning (Georgia Library Association)
This webinar will outline the principles of UDL and demonstrate how to translate them into tangible options for equitable information literacy instruction in a variety of modalities.
Thursday, Mar 30 (9-10 am)
Leader Talk: Creating Your Learning Strategy (Training Industry)
Creating a learning strategy can set training organizations up for success. A successful learning strategy not only aligns business goals with training, but also acts like a trusty roadmap that helps learning leaders confidently make data-driven decisions to close skill gaps and anticipate future business needs. Whether you are just getting started, or are fine tuning your strategic plan, this Training Industry Leader Talk will equip you with the insights you need to create, implement and adjust your learning strategy.
Thursday, Mar 30 (9:30-10:30 am)
How to Navigate Crucial Leadership Moments and Deliver Great Performance (Harvard Business Review)
Featuring David Noble, founder of View Advisors, a consulting firm advising top executives; and Carol Kauffman, ranked the number one leadership coach in the world, a founding member of Marshall Goldsmith 100 Coaches, and founder of the Institute of Coaching.
Thursday, Mar 30 (12-1:30 pm)
Benefits and Consequences of Racial Segregation in Early Childhood? (Early Childhood Investigations)
Racial segregation permeates all facets of life including early care and education. (One example of structural racism in the U.S. is racial segregation in housing.) In this fascinating webinar presented by Iheoma U. Iruka, Ph.D. and Stephanie Curenton, Ph.D. will guide you to use a critical lens to examine the implications of racial segregation in early childhood especially when seeking to advance equity for Black children and other children of color. You will hear about the findings of a recent paper that examined how racial composition is associated with quality and children's outcome. Speakers will discuss processes within the early care and education that promote and inhibit opportunities to learn, and ways to ensure anti-bias, anti-racist and culturally responsive practices.
Thursday, Mar 30 (5-6 pm)
"Civics for All of US" Teacher Workshop—The Civilian Conservation Corps: Civics at Work (U.S. National Archives)
Join the Franklin D. Roosevelt Presidential Library and Museum for this online teacher workshop that will provide resources for exploring how the development of a government "safety net" to protect Americans devastated by the Great Depression affected civic life. The Civilian Conservation Corp (CCC) is a great example to use in teaching about how the government responds to crises. By creating opportunities for unemployed young men, the CCC was an innovation in government and a model for future government programs benefiting families, cities, and rural communities.
Friday, Mar 31 (1-2 pm)
Universal Design at Your Library (WebJunction)
As we work to ensure that our library spaces, services, and programs are welcoming to all members of the community, it is important to know how to design for inclusion. The principles of Universal Design offer guidance on how to design in ways that prioritize usability and accessibility for all. This presentation will introduce the concept of Universal Design, explain how it contrasts with accessibility, and offer concrete advice for how to apply each of the principles of Universal Design at any library. The examples and ideas provided will focus on high-impact changes that can be done within a range of budgets from low (or even no) cost ideas to advice for planning for large-scale renovation projects.