Free, online, continuing education events for the week of February 13 from the Wyoming State Library Training Calendar. Descriptions and links are below. You can subscribe and view the events in your calendar software, or you can find all the events at library.wyo.gov/services/training/calendar.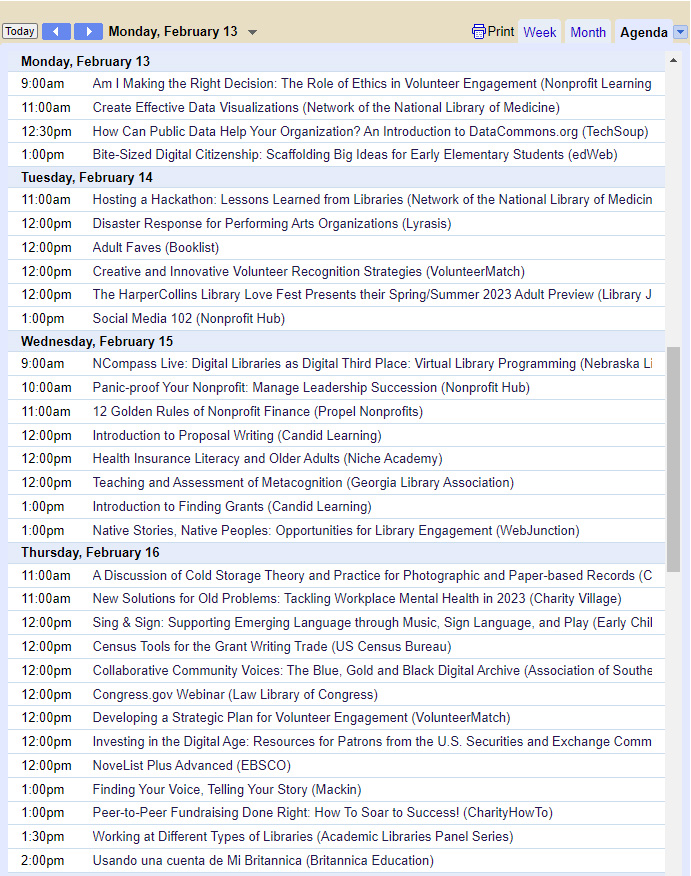 All times MST
Monday, Feb 13 (9-10 am)
Am I Making the Right Decision: The Role of Ethics in Volunteer Engagement (Nonprofit Learning Lab)
We all encounter ethical dilemmas in our daily work, but rarely do organizations focus on ethics related to volunteer engagement. This session provides an opportunity for practitioners in volunteer engagement to understand the difference between personal, organizational and professional ethics. The core values and principles identified by the Council for Certification in Volunteer Administration (CCVA) will be shared. Participants will learn a process for ethical decision-making that can be applied in any situation, and then practice this using a real-life scenario related to volunteers. Finally, several specific strategies will be offered for increasing awareness of ethics within an organization and helping both volunteers and staff become more effective at handling ethical dilemmas.
Monday, Feb 13 (11-12 pm)
Create Effective Data Visualizations (Network of the National Library of Medicine)
Join us for Love Data Week 2023! Data visualization is a key part of communicating information. Learn about common types of visualizations and how to use them to meet the information needs of your audience. This class will give examples of different chart types and will discuss common pitfalls when creating visualizations. Lastly, instructors will use example datasets to demonstrate creating visualizations in Tableau Public.
Monday, Feb 13 (12:30-1:30 pm)
How Can Public Data Help Your Organization? An Introduction to DataCommons.org (TechSoup)
Data can be used to demonstrate the need for nonprofits' services. But organizing that data so that it can be used to tell a story and show impact can be difficult. DataCommons.org brings together publicly available datasets from a variety of sources and provides an integrated view of this data to make the data more accessible and useful. In this webinar, you will learn about how DataCommons.org works and why it is an important resource for civil society organizations. We will also share how TechSoup works with DataCommons.org to make it as easy as possible for civil society organizations to use its service.
Monday, Feb 13 (1-2 pm)
Bite-Sized Digital Citizenship: Scaffolding Big Ideas for Early Elementary Students (edWeb)
Introducing digital citizenship can sometimes feel a little overwhelming, especially when you have limited class time. You may be wondering: When should I talk to my students about it? What are the relevant issues I should bring up? How do I make these conversations fun and engaging? How do I include parents in these conversations? It is never too early to talk to your kids about their digital lives and to help them practice digital citizenship. Research shows kids are getting access to devices at a younger age and that tech plays a role in almost every aspect of their lives—from how they connect with friends to how they learn at school.
Tuesday, Feb 14 (11-12:30 pm)
Hosting a Hackathon: Lessons Learned from Libraries (Network of the National Library of Medicine)
Join us during Love Data Week for a panel discussion on how to organize and host a hackathon! A hackathon is an opportunity to bring people with diverse backgrounds together for collaborative, hands on learning, exploring data, analyzing problems, and developing creative solutions. In this virtual discussion, panelists will share their experience hosting hackathons/codeathons in library spaces – both virtual and in-person. We'll discuss the challenges of organizing virtual and in-person hackathons, lessons learned and how librarians can get involved with hosting fun and successful hackathons.
Tuesday, Feb 14 (12-1 pm)
Creative and Innovative Volunteer Recognition Strategies (VolunteerMatch)
Are you doing the right things to recognize the work volunteers do for your organization? Are your recognition strategies and events stuck in the past? In this webinar we'll discuss what motivates today's volunteers and discuss strategies for matching recognition to motivation. We'll also share examples and ideas to incorporate creative and meaningful recognition into your volunteer engagement strategy. We'll cover how to ensure that your recognition strategies are aligned with your organization's culture and create impact-driven or mission-driven volunteer recognition.
Tuesday, Feb 14 (12-1 pm)
Adult Faves (Booklist)
Book awards season might be coming to a close but that doesn't mean there's a shortage of hot new books to add to your TBR! To learn all about this latest batch of must-have adult books, join us for this free, one-hour webinar! We'll hear presentations from Disney Books, Sourcebooks, Hachette Book Group, W. W. Norton & Company and Soho Press. Spend your Valentine's Day with us and find a new favorite to love!
Tuesday, Feb 14 (12-1 pm)
The HarperCollins Library Love Fest Presents their Spring/Summer 2023 Adult Preview (Library Journal)
Join the HarperCollins Library Marketing department (aka Library Love Fest) as they talk about their favorite adult books coming in 2023. They have everything your heart desires: memoirs, thrillers, romance, sleepers, and more! These books have touched their hearts and they're pretty sure they'll touch yours, too. You'll also hear about some exciting initiatives from the team.
Tuesday, Feb 14 (12-1:30 pm)
Disaster Response for Performing Arts Organizations (Lyrasis)
Emergency response can be a daunting prospect for performing arts organizations. This webinar will lay out the basic tenets of responding to an emergency including support organizations, working with vendors, and helpful resources for organization and planning. There will also be a brief introduction to the Incident Command System so that performing arts centers can work more seamlessly with their local first responders.
Tuesday, Feb 14 (1-2 pm)
Social Media 102 (Nonprofit Hub)
So you've finally adopted social media as a legit way to connect with your target audiences, but now you want to use it to stand out from the crowd. In our Social Media 101 webinar, we covered the Big 3 (Facebook, Twitter, and LinkedIn) and walked through social media tools. Now it's time to learn a few advanced social media tips and tricks, elevate your social media presence through micro strategies and activate your advocates.
Wednesday, Feb 15 (9-10 am)
NCompass Live: Digital Libraries as Digital Third Place: Virtual Library Programming (Nebraska Library Commission)
The role of libraries as "Third Place" – community building spaces that separate from home and work — has been noted ever since Ray Oldenberg described the concept in his book, "The Great Good Place." While both academic and public libraries continue to serve in this role as physical third places, what about in an online environment? Simply offering online circulation and reference services is insufficient. This presentation will discuss recent research on loneliness, social media and how strategic design of virtual library programming can enable libraries to continue to fulfill their role as vital third places in digital environments.
Wednesday, Feb 15 (10-11 am)
Panic-proof Your Nonprofit: Manage Leadership Succession (Nonprofit Hub)
Effective leadership is essential to nonprofits, and an unplanned or poorly executed leadership transition comes with substantial risks. These include interruptions in program delivery, disengagement of volunteers, a loss of institutional knowledge, and even a decrease in external funding. This is reason enough to plan for future transitions ahead of time, but succession planning is about more than emergencies. Succession and leadership development planning are worth your time and attention, as they are key components of sustainability that can make your organization stronger and more vibrant over time.
Wednesday, Feb 15 (11-12 pm)
12 Golden Rules of Nonprofit Finance (Propel Nonprofits)
Nonprofit financial health can seem like an elusive, nuanced, and subjective judgment call.  In this webinar we will break it all down to 12 Golden Rules of nonprofit finance to keep your organization healthy.  From budgeting to operating reserves, if you follow these rules, you'll be on your way to a better understanding of nonprofit financial health.  This session is a great introduction for those who are new to nonprofit finance.
Wednesday, Feb 15 (12-1 pm)
Health Insurance Literacy and Older Adults (Niche Academy)
Libraries are prominent places in communities – making libraries and librarians excellent resources for advancing health information literacy. For example, librarians can address the unmet information needs that make it difficult to make health insurance choices, particularly for seniors. Addressing this critical information need, Emily Vardell, Ph.D., will explore the history of Medicare, health insurance coverage for older adults in the United States, and the complex Medicare system itself.
Wednesday, Feb 15 (12-1 pm)
Teaching and Assessment of Metacognition (Georgia Library Association)
Metacognition is often an invisible by-product of information literacy. The active reflection and evaluation of what is being learned directly impacts how information literacy skills are understood and applied. This presentation is the result of a research inquiry examining the relationship between metacognition and information literacy. We will discuss how the concept of metacognition intersects with information literacy, why making that connection explicit is essential to the library's mission, and how we as librarians can incorporate specific metacognitive strategies into the library classroom.
Wednesday, Feb 15 (12-1:30 pm)
Introduction to Proposal Writing (Candid Learning)
Are you new to proposal writing or want a quick refresher? If so, you don't want to miss one of our most popular classes. This class will provide you with an overview of how to write a standard project proposal to a foundation.
Wednesday, Feb 15 (1-2 pm)
Native Stories, Native Peoples: Opportunities for Library Engagement (WebJunction)
The history and current experiences of Indigenous peoples and Tribal Nations are complex, rich and diverse. Libraries can play an important role in counteracting damaging myths and narratives about Native peoples, as well as exploring contemporary struggles and joys. This webinar will highlight opportunities for libraries to connect their communities to accurate and respectful information, fostering understanding and support of Indigenous peoples past and present. Resources for learning about treaties, Tribal Nations and lands, as well as insights into the experiences of Native communities today will also be shared. With a better understanding of these distinctive histories and cultures, library staff can promote learning and knowledge, support engagement with Native issues and peoples, and better serve all individuals in their community.
Wednesday, Feb 15 (1-2 pm)
Introduction to Finding Grants (Candid Learning)
Discover what funders are looking for in nonprofits seeking grants and how to find potential funders in this introductory course.
Thursday, Feb 16 (11-12 pm)
New Solutions for Old Problems: Tackling Workplace Mental Health in 2023 (Charity Village)
In this webinar, attendees will be challenged to look for new approaches to our current state of work so they can avoid repeating the solutions that weren't working prior to COVID-19 and aren't likely to be successful in the new world of work we find ourselves in now.
Thursday, Feb 16 (11-12 pm)
A Discussion of Cold Storage Theory and Practice for Photographic and Paper-based Records (Connecting to Collections Care)
Storing photographic films, prints, and other paper-based records at low temperature invites the inevitable risk/benefit analysis. What preservation goals can be achieved? How physically safe are the materials? How hard is it to implement? How much does it cost? How restricted is access to the collection? There can be positive answers for all these questions even for small institutions with limited staff and financial resources. One can start small and scale cold storage projects over time if basic concepts are understood. This presentation will also include practical tips and tricks for measuring, monitoring, and passive climate control using sealed cold storage methods.
Thursday, Feb 16 (12-12:45 pm)
NoveList Plus Advanced (EBSCO)
Looking to be a NoveList Plus power user? Join us for this 45-minute training and learn about beyond-the-homepage resources and advanced search techniques to help you support every reader in your community.
Thursday, Feb 16 (12-1 pm)
Census Tools for the Grant Writing Trade (US Census Bureau)
Census Bureau data provides key indicators and data points for including in a grant proposal. This hands-on, step-by-step workshop will help you successfully navigate key data tools to capture the information you need to support your grant writing. You will be guided through these tools: Census Resilience Estimates; My Community Explorer; and On the Map.
Thursday, Feb 16 (12-1 pm)
Congress.gov Webinar (Law Library of Congress)
This orientation is designed to give a basic overview of Congress.gov. While the focus of the session will be searching legislation and the congressional member information attached to the legislation, new features on Congress.gov will be highlighted.
Thursday, Feb 16 (12-1 pm)
Developing a Strategic Plan for Volunteer Engagement (VolunteerMatch)
Are you engaging volunteers with an eye to the future? Do you know what your volunteer program should look like in 3 or 5 years? Join us as we talk about the fundamentals for creating a strategic plan for volunteer engagement for your organizations. This webinar will include components that should be included as well as ideas for working with organization leaders to include strategic goals for volunteer engagement in your organization's overall strategic plan.
Thursday, Feb 16 (12-1 pm)
Collaborative Community Voices: The Blue, Gold and Black Digital Archive (Association of Southeastern Libraries)
Sign up to hear about a recently launched archive documenting the black experience at the University of Pittsburgh through the years. Users contribute the content: photos, memories, and soon, audio and video. The project, "The Blue, Gold and Black Digital Archive", is a collaboration between the University of Pittsburgh Library System and the Office of Diversity, Equity, and it definitely illustrates the concept of empowering communities to control their own narratives and build a history and context. Get lots of tips and ideas from our presenter.
Thursday, Feb 16 (12-1 pm)
Investing in the Digital Age: Resources for Patrons from the U.S. Securities and Exchange Commission (Federal Depository Library Program)
The SEC has a mission to protect investors and has free tools and resources your patrons and stakeholders can use on its website, www.Investor.gov, to become more informed investors and avoid scams. The SEC will discuss its resources and provide a sample presentation that can, at your request, be provided for your stakeholders during Financial Literacy Month (April) or any time by inviting the SEC via email: Outreach@SEC.gov. The SEC will discuss Investing in the Digital Age, covering topics such as compounding, asset allocation, diversification, common investment products, the risks of alternative investments like crypto assets, considerations when using investing apps, and how to spot and avoid investment scams.
Thursday, Feb 16 (12-1:30 pm)
Sing & Sign: Supporting Emerging Language through Music, Sign Language, and Play (Early Childhood Investigations)
Teaching hearing children to sign is an extension of the types of nonverbal communication they already use to get your attention, including facial expression, gesturing, making noise, crawling, toddling toward an object of desire, and more. Focusing on communication has never been more important given lost opportunities during the pandemic to learn and practice language skills. Join music therapist, early childhood consultant and author, Dr. Anne Meeker Watson for this engaging webinar. You can expect a rousing session that will be equal parts sign language instruction, music, play, and JOY.
Thursday, Feb 16 (1-2 pm)
Finding Your Voice, Telling Your Story (Mackin)
There's nothing more powerful than a story that connects us to help us understand each other and ourselves and to build empathy. Join us as we share these books and highlight the importance of sharing stories with young people to let them know how telling their stories will help them understand and expand their world.
Thursday, Feb 16 (1-2 pm)
Peer-to-Peer Fundraising Done Right: How To Soar to Success! (CharityHowTo)
Join Givebutter's Floyd Jones for this FREE nonprofit webinar about the four strategies to help your nonprofit have its best Fundraising year yet.
Thursday, Feb 16 (1:30-2:45 pm)
Working at Different Types of Libraries (Academic Libraries Panel Series)
Interested in learning more about libraries outside of academic libraries and how their work influences all levels of librarianship? Join us for a discussion with current library professionals.
Thursday, Feb 16 (2-3 pm)
Usando una cuenta de Mi Britannica (Britannica Education)
Participantes aprenderán como crear una cuenta de Mi Britannica usando todos los recursos de Britannica y usar sus cuentas para guardar piezas de contenido, organizarlas en carpetas y compartirlas.