Free, online, continuing education events for the week of March 13 from the Wyoming State Library Training Calendar. Descriptions and links are below. You can subscribe and view the events in your calendar software, or you can find all the events on our Training Calendar.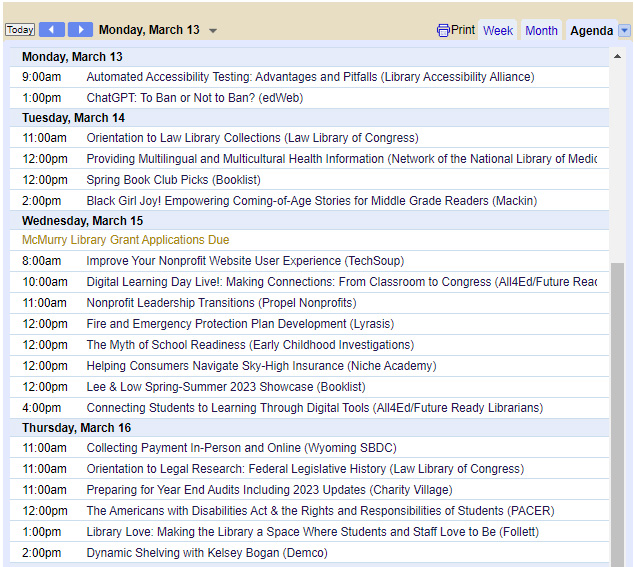 All times MDT
Online conferences and events
Mar 14-16 (10-2 pm)
2023 Southeast Collaborative Online Conference
The 2023 Southeast Collaborative Online Conference is a collective effort by the Georgia Public Library Service, State Library of North Carolina, South Carolina State Library, Tennessee State Library & Archives, and The Library of Virginia to offer innovative and useful online learning experiences for library staff at all levels through a convenient online conference. This free conference offers a variety of topics for public, academic, and other library staff.
Webinars
Monday, Mar 13 (9-10 am)
Automated Accessibility Testing: Advantages and Pitfalls (Library Accessibility Alliance)
This webinar will provide an opportunity to share how accessibility was foundational to the development of the Michigan State University (MSU) Libraries' new website, which launched in late 2022. The MSU team will discuss the process of automating accessibility testing using Cypress.io, an open source end-to-end testing framework used in conjunction with cypress-axe to automate the accessibility checks. This webinar will elaborate on the usage of such tools, similar open-source software, and their incorporation into their development process. They will share their experience in setting up these tools in addition to their usage and their pitfalls in working towards making the MSU Libraries' new website accessible to a wide range of audiences.
Monday, Mar 13 (1-2 pm)
ChatGPT: To Ban or Not to Ban? (edWeb)
Join Laura Ogando from the New York City Department of Education and Tammi Sisk from Fairfax County Public Schools for a lively discussion on the implications of artificial intelligence in the learning experience. They will share their districts' approaches as well as how to address some of the primary concerns—and possibilities—of ChatGPT. Together, they will consider the viewpoints of the key stakeholders through the lens of a digital dilemma and thinking routine.
Tuesday, Mar 14 (11-12 pm)
Orientation to Law Library Collections (Law Library of Congress)
This webinar is designed for patrons who are familiar with legal research, and would instead prefer an introduction to the collections and services specific to the Law Library of Congress. Some of the resources attendees will learn about include the Law Library's research guides, digital collections, and the Guide to Law Online, among others. It will also feature a special appearance by the Minnesota State Law Library law librarian Liz Reppe, as part of the State Law Libraries Outreach Project.
Tuesday, Mar 14 (12-1 pm)
Providing Multilingual and Multicultural Health Information (Network of the National Library of Medicine)
This 1-hour live class taught in WebEx is designed to assist librarians and others who work with diverse populations in locating health information. The resources presented are selected for their emphasis on providing culturally relevant information in the preferred language of the population. Background information on refugees and immigrants in the U.S. and their unique health issues will be presented. Participants will have the opportunity to become familiar with the features and scope of several Internet resources.
Tuesday, Mar 14 (12-1 pm)
Spring Book Club Picks (Booklist)
Join us for the hottest upcoming titles that your book club is sure to love! We'll hear title presentations from Bloomsbury Publishing, Penguin Random House Library Marketing, and Simon and Schuster! You won't wanna miss it, register now!
Tuesday, Mar 14 (2 -3 pm)
Black Girl Joy! Empowering Coming-of-Age Stories for Middle Grade Readers (Mackin)
Join authors Karyn Parsons, Erika J. Kendrick, and Sharee Miller as they dive into the importance of telling stories that lean into joy and being proud of who you are. Through family, friendships, and the power of trying new experiences, these authors show readers the strength it takes to be uniquely you.
Wednesday, Mar 15 (8-9 am)
Improve Your Nonprofit Website User Experience (TechSoup)
User experience (UX) focuses on having a deep understanding of website visitors, the information they need, the actions you want them to take, and the ease with which they can engage and convert on your website. Nonprofit websites are the centerpiece for all digital engagement with an organization. Having a good UX can enhance support, increase donations, and further your mission. Join us to learn about the top UX enhancements and features to consider on your website for 2023 and beyond.
Wednesday, Mar 15 (10-10:30 am)
Digital Learning Day Live!: Making Connections: From Classroom to Congress (All4Ed/Future Ready Librarians)
Join us as All4Ed kicks off the 12th Annual Digital Learning Day with a special live episode of our podcast "Undisrupted" hosted by Adam Phyall and Carl Hooker. We will highlight the importance of digital learning in education and inspire educators to explore new and innovative ways to integrate technology into their teaching practices.
Wednesday, Mar 15 (11-12 pm)
Nonprofit Leadership Transitions (Propel Nonprofits)
Leadership transitions are an inevitable part of every nonprofit's life cycle. While these transitions can be daunting and often carry an emotional weight, the leadership transition and development process can benefit both the people involved and the organization. Transitioning from one nonprofit leader to another is an opportunity for investing in your overall organizational strategy and growth. Leadership transition is a time-bound, four-phase transition from one leader to another. Join us to learn about preparing for an upcoming leadership change, setting yourself up for a successful search process, and onboarding your new leader for short-term and long-term success.
Wednesday, Mar 15 (12-1 pm)
Helping Consumers Navigate Sky-High Insurance (Niche Academy)
Insurance is the last form of protection against financial catastrophe. But until now, consumers had no way of knowing if the company they were buying from was good about delivering on their promise to pay claims. Join Dan Karr as he shares how big data and technology have combined to make understanding insurance reliable, accurate and easy. You'll learn how to find out how good any insurance company is for protecting and serving policyholders, and how to share that information with patrons!
Wednesday, Mar 15 (12-1 pm)
Lee & Low Spring-Summer 2023 Showcase (Booklist)
Discover what's new for Spring-Summer 2023 at Lee & Low on Wednesday, March 15 at 2 p.m. ET / 1 p.m. CT! During this free, one-hour webinar, you'll learn about new picture books, chapter books & YA titles about everyone & for everyone from the largest multicultural children's book publisher in the country. Then hear from the creative team behind the picture book, I CAN BE…ME!: Lesléa Newman & Maya Christina Gonzalez.
Wednesday, Mar 15 (12-1:30 pm)
Fire and Emergency Protection Plan Development (Lyrasis)
Participants in this webinar will be presented with the components of a Protection Plan and the process to follow for the development of a plan following guidelines provided by the National Fire Protection Association's Code for Protection of Cultural Resource Properties. Grounded in a vulnerability assessment, the planning process covers fire safety, security, construction considerations, prevention, special events, and recovery strategies. At the completion of this webinar, participants will have the tools needed to begin developing a comprehensive Protection Plan that is compliant with industry safety standards and best practices. In conjunction with emergency management plans, this Plan is a significant step towards a resilient organization.
Wednesday, Mar 15 (12-1:30 pm)
The Myth of School Readiness (Early Childhood Investigations)
Early education is all about preparing young children for school, right? Or is it? Join me for a provocative discussion about school readiness. Is it really the end all and be all of early learning? Ready for what? Can we accurately assess readiness? Does school readiness even exist? Or is it a myth — a story that frames the way we think of children and their early learning needs?
Wednesday, Mar 15 (4-5 pm)
Connecting Students to Learning Through Digital Tools (All4Ed/Future Ready Librarians)
Join us to learn about ten digital tools that help ensure we are making connections and personalizing learning for students every day, everywhere.
Thursday, Mar 16 (11-12 pm)
Collecting Payment In-Person and Online (Wyoming SBDC)
With more ways to pay than ever before, it's vital that your business provides flexible and safe options for collecting payments. In this interactive webinar, you'll discover the wide range of payment processing options, including Square, Venmo, and traditional banking, that you can use to grow your business. You'll also learn when it's more advantageous to use each one and identify the ideal option for your unique business model.
Thursday, Mar 16 (11-12 pm)
Orientation to Legal Research: Federal Legislative History (Law Library of Congress)
This webinar will discuss how to find debates, hearings, reports, and other documents that may reflect a bill's legislative intent as it moves through Congress. The presentation will focus largely on how to find these documents through online government resources, including Congress.gov, govinfo.gov, and Law.gov., and quickly touch on subscription databases that can be accessed at one's local public law or academic library.
Thursday, Mar 16 (11-12 pm)
Preparing for Year End Audits Including 2023 Updates (Charity Village)
It's that time of year again! This webinar is designed to help nonprofit organizations better navigate the year-end reporting and audit processes, with a special section on what's new and different in 2023.
Thursday, Mar 16 (12-1:30 pm)
The Americans with Disabilities Act & the Rights and Responsibilities of Students (PACER)
The ADA protects persons with disabilities from discrimination and provides equal access and opportunity for participation in education and employment. This training provides information on ADA rights and responsibilities of students who plan to work and/or attend a post-secondary institution following high school graduation.
Thursday, Mar 16 (1-2 pm)
Library Love: Making the Library a Space Where Students and Staff Love to Be (Follett)
Turn your library into the hub of the school, where ideas are blooming, creativity is bursting, learning is engaged and exciting, and students and staff want to spend time. That's a tall order, but experienced school librarians who have taken their libraries to the next level – like Carrie Friday of Southwest Middle School – know how to make it happen. On this fast-paced and informative webinar, Carrie Friday will share ideas, strategies, and experiences on how she's elevated her library to far beyond check-in and checkout. Join us as Friday explores ways to gather the data you need to make a plan for change or improvement and then execute that plan.
Thursday, Mar 16 (2-3 pm)
Dynamic Shelving with Kelsey Bogan (Demco)
Join speaker and school librarian Kelsey Bogan to explore the world of dynamic shelving! This fun and creative webinar is designed to show you how to create accessible, engaging collections for independent browsing — boosting circulation and making it easier for readers to find their next favorite book.