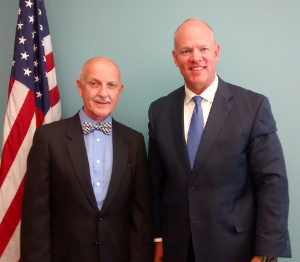 From the Office of Governor Matt Mead
CHEYENNE, Wyo. – Today Governor Matt Mead held a signing ceremony for his Executive Order, announcing Eugene M. Gagliano as the new Poet Laureate for Wyoming. Mr. Gagliano is a retired elementary school teacher from Buffalo and is the eighth Poet Laureate in state history.
"Gene writes for all audiences. He has written award-winning children's books and adult poetry that celebrates life in Wyoming and the West," said Governor Mead. "As an elementary school teacher for over 20 years, he has shared his passion for poetry with scores of students."
Mr. Gagliano is a recipient of the 2001 Arch Coal Teacher Achievement Award and the International Reading Association's 2004 Wyoming State Literacy Award. His published works include Dee and the Mammoth; C is for Cowboy, a Wyoming Alphabet; Four Wheels West, a Wyoming Number Book; My Teacher Dances on the Desk and Prairie Parcels.
"We have such a wealth of literary talent in this state.  Gene follows A. Rose Hill, Echo Klaproth and Pat Frolander as the fourth Poet Laureate, during my time in office, to inspire us with his written verse," continued Governor Mead.
"I am honored and privileged to be a part of the poets who have been Poet Laureates," said Mr. Gagliano. "I'm very excited. It's another venue for me to get out to kids and talk about reading and writing, inspiring them and encouraging them."