Paul Goodson, legislative and research librarian for the Wyoming State Library, is the featured speaker May 12 at the Wyoming State Museum, as part of its Spring 2016 Lecture Series. His presentation on "A History of the 1941 Cheyenne Indians Minor League Baseball Team" will begin at 7 p.m. at the museum, 2301 Central Ave. in Cheyenne.
Goodson, a member of the Society of American Baseball Research, will recall the history of Cheyenne's last professional baseball team — how (and why) the team came into being — as well as biographies of the players, manager, and front office personnel.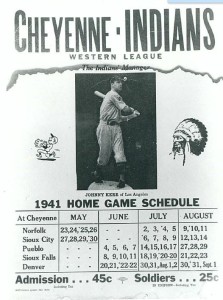 The fate of the team and later efforts to return minor league baseball to Cheyenne will also be discussed. 2016 marks the 75th anniversary of this team and this presentation is offered as a celebration of this team and the great American sport of baseball.
Goodson became interested in baseball research as a child and has continued that pursuit throughout his life. He is especially drawn to 'unexplored' teams and topics in baseball history such as minor league and college baseball teams. In addition to delving into past teams such as the Cheyenne Indians, he also enjoys computer based simulations of historical teams. After researching the 1941 Western League he compiled data files that can be used with a free program (Strategic Baseball Simulator) to replay the entire season, digitally bringing these players of long ago back to life.
Learn more about the lecture series at wyomuseum.state.wy.us/Learn/Lecture.aspx.