The Wyoming State Library runs regular Wyoming-related book reviews on this blog and in the Outrider newsletter. Would you like to be on our reviewers list? Contact Susan Mark at susan.mark@wyo.gov or (307) 777-5915.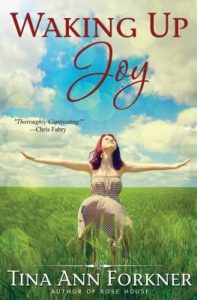 Waking Up Joy
by Tina Ann Forkner
[San Clemente, CA] : Tule Publishing, [2014]
With a blend of faith, superstitions, and a deep sense of place (set in small Spavinaw, in northeastern Oklahoma), Tina Forkner tells the engaging story of Joy, a spunky woman in a coma. Her family members talk about her over her hospital bed, not knowing that she can hear everything they say, saying things they would never utter to her face. They believe she unsuccessfully tried to kill herself, but the reason she is in a coma unfolds as Joy's past is revealed throughout the novel. The characters are a quirky group that are believable rural Oklahomans. Forkner grew up in the area, familiar with the land, small towns and people, and her voice permeates the story. Imagine the characters speaking with a slight twang, and you'll be right there with them. Family secrets, romance, humor, healing, a tornado (Spavinaw is in tornado alley), and a bit of mystery make this novel an enjoyable page-turner that is hard to put down. What is Joy's past? What is her future? What ARE those family secrets?
Reviewed by Jennifer Rife, Design & Humanities Coordinator
Laramie County Library System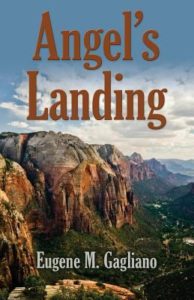 Angel's Landing
by Eugene M. Gagliano
Bradenton, Florida : BookLocker.com, Inc., 2015.
Gagliano's whirlwind narrative takes the reader on a classic camping adventure through National Parks and Monuments all over the West, from the Mississippi to the California Redwoods. Set in the 1960s, this adventure narrative follows a group of boys and counselors as they camp, hike, and climb their way through the western states, meeting interesting people and wildlife along the way. Throughout the tour, personalities clash, cliques and friendships are formed — then questioned — and fears are realized, tested and overcome. Adventure after adventure, we follow relatable characters through tough situations, in the wilderness and especially in the home and social life of the main character, Ricky. Among the other campers, Ricky stands out as the youngest, smallest, poorest, and most afraid — or so they keep telling him. But as we follow Ricky, each encounter with the unknown teaches us more about his determination and growing courage in the wake of a scarring personal tragedy. This coming of age adventure story stays true to the western spirit; it's a rough and tumble ride where boys learn about overcoming fear and standing up for oneself… which might include taking — or throwing — a punch or two.
Reviewed by Angela Wolff, Library Technician
Wyoming State Library