by Jennifer Rife
Laramie County Library System Design & Humanities Coordinator
Reposted from LCLS blog
Walking through the library is often a visual treat. In display cases, on many walls, and available surfaces, you might find an intriguing piece made of clay, handcrafted paper, turned wood, or a quilt with a complicated pattern. Perhaps you've wondered how something was made and what techniques were used and have thought you'd like to learn how to do that.
Your library has just what you're looking for–we offer makerspaces and workshops on a regular basis!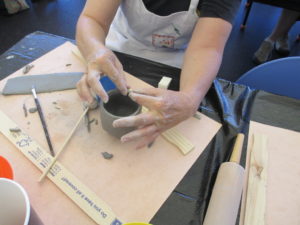 What are makerspaces and workshops? The Laramie County Library System's mission is to promote lifelong learning and adventure, and makerspaces and workshops fit the mission like a glove. Providing free opportunities for residents of Laramie County to learn a new skill or technique is right up our alley!
Some libraries have fully outfitted makerspaces in their buildings that may include all sorts of power tools, sewing machines, 3D printers and computers with design software, and kilns for firing clay models. The idea is to provide a community space with access to equipment that is cost prohibitive for an individual to try out at home. People can try out the tools needed to produce their idea–perhaps even coming up with a new invention that will help solve a problem or meet a need.
The Laramie County Library doesn't have a dedicated makerspace (yet!), but in recent years at your library, people have learned how to make and glaze their own cups from earthenware clay; build a cob structure; print and bind books; brew beer at home; code Raspberry Pi computers; create video games; make a tote bag of upcycled library banners with duct tape; and so much more!
Maker programs are regularly offered for all ages at your library, so keep an eye out by picking up a monthly calendar. Look for the words makerspace, maker workshop, crafts, andDo-It-Yourself (DIY) for clues to these programs.
Maybe you'll learn just what you need to know to create a new invention!