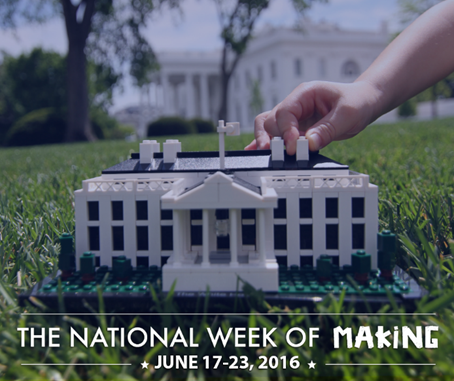 The White House Office of Science and Technology Policy is promoting the National Week of Making June 17-23 as part of the Nation of Makers initiative. Makerspaces provide the types of hands-on STEM learning experiences that spark interest in science and technology careers. They also foster a "maker mindset"—dispositions and skills such as curiosity, collaborative problem-solving, and creative confidence. Libraries are increasingly adding makerspaces and related programming.
The Library as Incubator Project offers these ideas on how libraries can get involved:
Post a photo about the #NationOfMakers
Organize an event and/or host an open house
Volunteer to be a mentor
Organize a maker roundtable, maker town hall, or maker tour
Follow the conversation online at #NationOfMakers and #WeekofMaking.
Your idea here!
For more information, see the White House and Library as Incubator Project blogs.