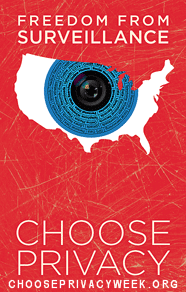 From the American Library Association
The American Library Association's Intellectual Freedom Committee has approved four new library privacy guidelines that outline strategies and best practices for protecting patron privacy in the digital environment. The guidelines address online privacy and data security and are intended to assist librarians, libraries, schools and vendors in developing policies and procedures that safeguard library users' data. The guidelines include:
Library Privacy Guidelines for Public Access Computers and Networks
Library Privacy Guidelines for Library Websites, OPACs, and Discovery Services
Library Privacy Guidelines for Library Management Systems
Library Privacy Guidelines for Data Exchange Between Networked Devices and Services
The guidelines augment the previously released Library Privacy Guidelines for E-book Lending and Digital Content Vendors and Library Privacy Guidelines for Students in K-12 Schools.
The guidelines are now available online on the ALA website. The Intellectual Freedom Committee's Privacy Subcommittee encourages anyone with comments or questions to send correspondence to its ALA Staff Liaison Deborah Caldwell-Stone at dstone@ala.org.