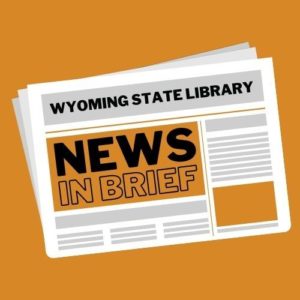 Science Based Resources for the Classroom from Wyoming PBS
Wyoming PBS has partnered with Science Kids out of Sheridan to create Nature WY, a digital educational series focused on outdoor science and nature and developed for children 6-8 years old. The five-part series helps bring discovery moments to young learners and learners of all ages. Each episode has an activity guide for use at home and a lesson plan aligned to state and common core standards.
Big Talk for Small Libraries Schedule Available
Registration is open, and the full schedule and speaker information for the 2023 Big Talk From Small Libraries online conference is now available This free event is tailored for staff from small libraries. The conference will take place Friday, February 24, 2023, from 7:45 a.m.-4:00 p.m. MST.
Registration Open for CLiC's Virtual Winter Workshop
Gain practical knowledge to help in your library work, discover new ideas, and get energized at the CLiC 2023 Virtual Winter Workshop on February 23-24. Registration is $25 and includes access to recordings for one year. Thursday, February 23, is free for Trustees. Deadline to register is February 17.
ALA GameRT Call for Presenters for Virtual Mini-Conference
The Games & Gaming Round Table (GameRT) of the American Library Association is looking for presenters for its 2023 one day mini conference to be held on March 31. The conference will be virtual and free. This year's theme is tabletop role playing games.
WebJunction to Host Free, Online Event on Connected Learning
Have you heard about connected learning, but wondered what it is and how it relates to libraries? Learn more at  ConnectedLibFEST, a free virtual convening from WebJunction that will take place on March 15–16, 2023, 11 a.m.-3 p.m. MST. Connected learning is a framework used by libraries and practitioners across the country in communities big and small, rural and urban, to support rich learning experiences for youth.
Language Resources: Translation, Interpretation Services, and Beyond
Providing live language interpretation services makes your program and/or event accessible to people who do not speak English. Presenting information in the multitude of languages that are spoken and understood in our communities immediately and visibly creates an inclusive, welcoming environment. The Colorado Virtual Library blog has information and resources available for serving non-English speakers.
Policy Briefs and Reports Available from EveryLibrary
EveryLibrary Institute focuses its research agenda on voter and public perception of taxes for libraries, and not on what the user experience is. They publish the results and outcomes of their of our research and projects in order to support the entire profession.
Library Resources & Technical Services Journal Goes Fully Open Access
Library Resources & Technical Services (LRTS), ALA's journal dedicated exclusively to all aspects of collections, is now completely open access. Previously, the most recent six issues of LRTS were embargoed behind a login for subscribers and Core members, which has been removed. This change makes the complete contents of the journal from 1996 to the present freely available on the LRTS site.
Registration Open for Money Smart Week 2023
Money Smart Week 2023, taking place April 15-21, will be entirely virtual and focused on four "Money Smart" themes. Content will be provided by government, non-profit and educational institutions through a combination of presentations, toolkits and resources. Money Smart Week programming will focus on supporting the needs of low-to-moderate income households to encourage greater financial well-being in our communities.
Library of Congress Opens New Web Archive Collection for Black History Month
A new web archive collection from the Library of Congress documents the civil unrest sparked by the police murder of George Floyd on May 25, 2020. The Protests Against Racism Web Archive contains a selection of websites documenting protests against racism and police brutality against Black people, as well as grass roots movements and activism calling for police reform. The new web archive is a selective collection that partially documents websites between June 29 and Aug. 7, 2020. It includes more than 200 web archives.