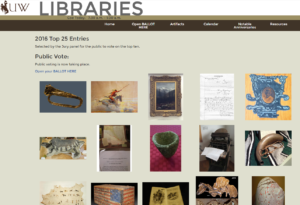 There's only one week left to vote! Check out the nominees for Wyoming's Top Ten Artifacts and cast your ballot before the close of business on July 15, 2016.
Wyoming's Most Significant Artifacts was launched in 2015 by the Wyoming State Historical Society in partnership with the University of Wyoming Libraries in celebration of 125 years of Wyoming Statehood. Its purpose is to provide recognition to the cultural institutions throughout Wyoming that preserve and provide access to collections that enhance enjoyment and understanding of Wyoming's heritage and provide ongoing learning and research opportunities.
Learn more and cast your ballot at www-lib.uwyo.edu/wyoming/top_ten_historical_artifacts/home_wyoming_artifacts.cfm.