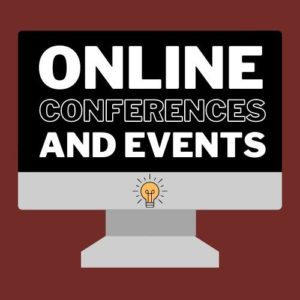 Each month we post upcoming free virtual conferences to our training calendar. Here are the offerings coming up for April.
April 4 (8-3)
Penguin Random House 2023 Spring Book & Author Festival (Library Journal/School Library Journal)
As we lead up to National Library Week, enjoy a day packed with author panels and interviews, book buzzes, virtual shelf browsing, and adding to your TBR pile. You'll hear from many of your favorite authors, whose work runs the gamut from Picture Books to Young Adult titles to the best new Fiction and Nonfiction for adults. There is something of interest for every reader. Attendees will also have the opportunity to check out the virtual exhibit hall, access eGalleys, and enter to win prizes and giveaways.
April 4 (1-4)
Mental Health and Wellness: Library Workers Thriving in Uncertain Times (San Jose School of Information/Library 2023)
Libraries have the power to help transform lives, both for staff and patrons, through efforts that promote mental health and wellness. In this Library 2.0 mini-conference, we will specifically focus on helping library workers thrive in our current uncertain and complex times. We will also explore the "opportunity to reimagine our futures, to renew and adapt our institutions and to craft new stories about who we are and what we value" (United Nations' Human Development Report 2021/2022).
April 4-6
NNLM National Virtual Health Misinformation Symposium (Network of the National Library of Medicine)
This free virtual symposium will explore both the research behind health misinformation movements and provide practical and evidence-based solutions to support librarians, health educators, and direct care providers in combating the spread of all types of health misinformation. Topics may include the types of misinformation, history of health misinformation, tips to understand health research, combating social media spread, the effects of health misinformation on individuals and communities, and highlighting replicable programs that Network Members can implement to address health misinformation. This virtual symposium will feature sessions focused on data, public health, libraries, and general health misinformation.
April 14 (9-4:15)
New Mexico Library Association Spring Symposium – Intellectual Freedom (New Mexico Library Association)
Listen to and discuss various intellectual freedom issues. Sessions include "Indigenous Intellectual Property," "Library Challenges in a Shifting Landscape," "Should You Trust Wikipedia? Maintaining Information Quality in an Encyclopaedia Anyone Can Edit," and "Legally Speaking: Freedom to Read."