The Wyoming State Library runs regular Wyoming-related book reviews on this blog and in the Outrider newsletter. Would you like to be on our reviewers list? Do you have a book you'd like us to consider? Contact Susan Mark at susan.mark@wyo.gov or (307) 777-5915.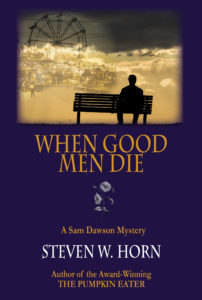 When Good Men Die
By Steven W. Horn
Cheyenne, Wyo.: Granite Peak Press, 2015
Horn's first Sam Dawson mystery, the award-winning The Pumpkin Eater, was a great book; however, When Good Men Die made it shadow in comparison. It has been a while since I've picked up a book and been hooked by the first few pages, but I found myself staying up way too late to see what would happen next. I fell in love with the man the story focused on, a nearly 100-year-old Hans Gottlieb. Hans winds up in a Minnesota nursing home with no known history of his life and only the reader becomes privy to his full past. Photographer Sam Dawson happens to show up the night a murder is committed in the nursing home and becomes the prime suspect. Trying to clear his name, Sam uncovers Hans' past and ultimately the identity of the murderer. I went through this book thinking the motive was the mystery to be found, but the last few chapters uncovered a whole lot more. An excellent read and one I've already recommended.
Reviewed by Tasha Reeves, Librarian Assistant II
Fremont County Library – Lander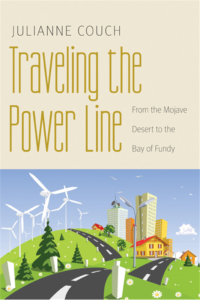 Traveling the Power Line: from the Mojave Desert to the Bay of Fundy
By Julianne Couch
Lincoln, Neb.: University of Nebraska Press, 2013
Have you ever wondered about where the electricity that runs your house comes from? Here in Wyoming, it is nearly impossible to read the paper or talk to folks without hearing about coal, oil, and natural gas. Couch takes us on a tour of the major energy fields that power our country. Each chapter begins with a description of the local weather in Laramie and then walks the reader through what a particular power plant looks like, the people involved, and the ups and downs of the industry. Overall, her coverage of each power source is factual and friendly, inviting the reader to do his or her own research to learn more about the subject. At times, the book is more of a travelogue than a discussion of sources of power, but this approach works well to encourage the reader to dive into a topic that could be dry and overwhelming and come away with at least a general understanding of where power comes from and each source effects our environment and lifestyle.
Reviewed by Joan Brinkley, Director
Goshen County Library, Torrington