From the American Library Association
Your library changes the lives of people in your community, school and campus every day. The American Library Association (ALA), in honor of its new public awareness campaign, Libraries Transform, wants you to share your stories of how libraries do just that.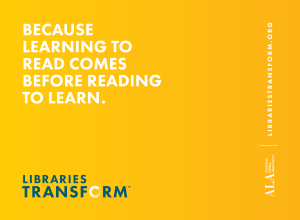 Libraries can participate in two ways. First, libraries and librarians are asked to submit 1-2 minute videos discussing how their library transforms their community, campus or school. Submissions will be used by ALA to develop a promotional video or a series of promotional videos. For more information, check out ALA's informational video, or visit ala.org/nlw.
A second promotion asks library users to share how their library transforms their life. Using the model of the Libraries Transform campaign's Because… statements, library lovers are asked to create their own Because… statements on social media using the hashtag, #LibrariesTransform. One randomly selected winner will receive a $100 gift card and a copy of Secret Coders, by Mike Holmes and Gene Luen Yang, the Honorary Chair National Library Week 2016.
For more information on how you can get involved with National Library Week visit ala.org/nlw. For more on the Libraries Transform initiative, visit www.ilovelibraries.org/librariestransform.