Reposted with permission from the January 2016 issue of UWyo Magazine
Special collections librarian Tamsen Hert ensures that Wyoming's historical and cultural publications are accessible to the public.
By Jeff Tatay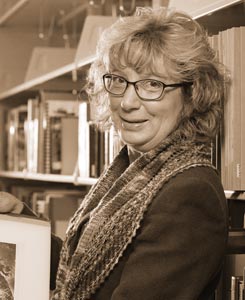 Every place and culture has a story to be told—a historical and cultural narrative that informs our understanding of place, its inviting yet austere landscapes, and its people who once set the stage as actors in place and time. These are the historical memories, the fragments and pieces that shape our history and allow us to continue forward with our own narratives. The efforts of UW librarian Tamsen Hert, head of the Emmett D. Chisum Special Collections, ensure that these fragments and pieces of history are collected, archived and made accessible to scholars around the world.
Uncovering forgotten history: While Hert was working on University of Wyoming, a book she co-wrote with Rick Ewig, she found a fragment of history in Special Collections that caught her interest: a forgotten dinosaur hunter and UW alumnus named Charles Whitney Gilmore. Gilmore was a key figure in the golden age of dinosaur paleontology who went on to work for the Smithsonian Institution.
"As you get to work with these materials, you find some of the pieces that haven't been told, some of the stories that haven't been highlighted in Wyoming's history, and so it's kind of fun to discover those and try to share that story," Hert says.
The story of Gilmore titled The 'Forgotten' Dinosaur Cowboy was one of the recent Wyoming history exhibitions put together and told by Hert with the help of UW students and faculty.
Shaping the narrative: Because many stories are forgotten—and personal values and political interests shape our history—Hert emphasizes the importance of making sure Wyoming's historical and cultural publications are collected and made accessible to the public.
"The role of Special Collections is to collect all of those stories, whether fiction, history, scientific, geologic, so that somebody can come in and look at those resources and either create a new story or understand and move forward pulling up new information on a topic."
Hert also is president of the Wyoming State Historical Society, a recipient of UW's Agnes Milstead Distinguished Librarianship Award, and a recognized Yellowstone National Park historian.