From Lindsey Travis
Rock Springs Library Manager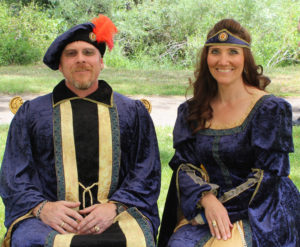 The Sweetwater County Library's Medieval Faire was a success. About 500 people attended the event held July 16 on Expedition Island in Green River — and many were dressed in their Medieval best! The faire featured crafts and vendors, along with a storyteller, a king and queen who handed out gifts to their visitors, a caricaturist,face painting, archery (with Nerf equipment), and pool-noodle jousting. Medieval lawn games such as Queek and Skittles were a big hit among those in attendance.
This was the fourth time the library has hosted a Medieval Faire. It is a fun community event that the library staff loves to put together. See more photos below!