From the American Library Association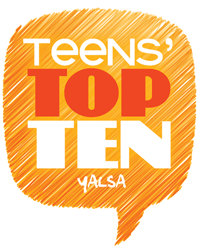 Teens can start casting their votes for their favorite titles for the 2016 Teens' Top Ten now through October 15. The voting page showcases all 26 nominees with their respective book covers and summaries, and gives teens the opportunity to leave comments about their favorite titles. The "top ten" titles will be announced the week following Teen Read Week™, which takes place October 9-15.
All teens aged 12-18 are eligible to participate in the voting process and can vote for up to three of their favorite titles from the list of 26 nominees. A video featuring the 26 nominated titles can be found on YALSA's Teens' Top Ten site. Individual trailers for each title can also be found on YALSA's youtube channel. Libraries can support this effort by sharing these resources with their teen patrons and encouraging them to vote.
The Teens' Top Ten is a teen choice list, with teens nominating and choosing their favorite books of the previous year. Nominators are members of teen book groups from 15 school and public libraries around the country. Library staff can now apply on behalf of their teen book groups for a chance to be a part of the official 2017-2018 Teens' Top Ten book groups.
Learn more at www.ala.org/yalsa/teenstopten