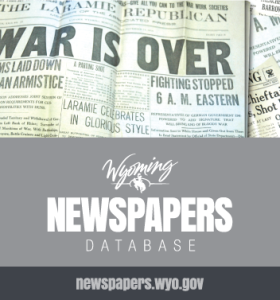 The field has narrowed, and Wyoming Newspapers is in the running for the Wyoming State Historical Society's "2016 Top Ten Artifacts." Voting will open to the public on April 14 on the 25 finalists.
Wyoming Newspapers is a free online resource that catalogs the Cowboy State's newspapers of the past. With more than 800,000 pages in the archive, this website is a treasure trove of historical information that genealogists, students, and scholars find invaluable.
The oldest publication included is the hand-written Chugg Water Journal, which dates back to 1849 and promised to publish "occasionally and sometimes oftener, if not sooner." Many newspapers only lasted a short time and many have disappeared just like the boom-and-bust ghost towns of the past.
For the sheer volume of information they contain, newspapers are the single most important printed record of human activity. Serving as the gateway to the past, historical newspapers help researchers learn about the events and perceptions that affected a community, state, and nation.
Wyoming Newspapers makes it possible for anyone with an interest in history to search by keyword or browse by specified towns or counties, on certain dates, or by a specific title from any computer, tablet, or smartphone. Historians, genealogists, students and others rely on them to provide a first-hand and sometimes the only account of local news in Wyoming.
Discover the stories that formed Wyoming, through Wyoming Newspapers at newspapers.wyo.gov. It's one of the State Library's six online digital collections found at digitalcollections.wyo.gov
View the top 25 finalists and be ready to cast your vote for Wyoming Newspapers beginning April 14!