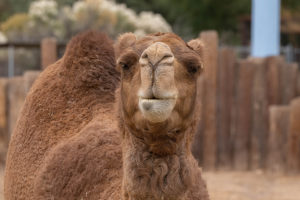 As every librarian knows, you can never predict what reference question will cross your desk. We reached into our archives for this tidbit about the Wyoming State Legislature.
The question was about the tradition of Wyoming Representatives wearing camel hair or camel colored jackets on Wednesdays. Was there documentation of this tradition? Was it an homage to the working class?
State Library staff searched the print and online collections, but found no reference to the tradition. They contacted multiple agencies, organizations, and individuals. Finally, the Legislative Services Office came up with the answer.
It's as simple as this: Wednesday is "hump day," the day we all get over the workweek "hump" and start heading downhill to the weekend. In addition, the WSL reference staff discovered a January 7, 2007, Casper Star Tribune article, "Decorum, traditions play big role in Legislature." The article, available to online subscribers only, detailed many legislative traditions, such as this one.
Need help with government information? The WSL can help. Our expert reference staff can help you find what you're looking for. Contact us at statelibrary@wyo.gov or (307) 777-6333.