Colter High School (Worland) senior Macoy Churchill is a National Honor Winner in the 2015 Letters About Literature Contest. His work was forwarded for national judging after placing first in the Wyoming contest in Level III (grades 9-12). Letters About Literature is a project of the Center for the Book in the Library of Congress that invites students in grades 4-12 to write to an author whose work affected their lives.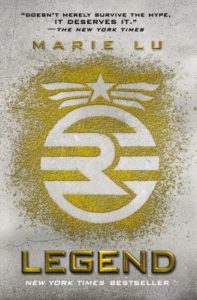 Churchill wrote to Marie Lu about her book, Legend, a romantic thriller set in a future dystopia. Macoy's letter was selected for publication in Journeys, an anthology featuring the "best of LAL" letters from the past decade. The book will be published by Candlewick Press in 2017 and will be distributed nationwide to schools, libraries, and retail bookstores.
In the other age categories, Arundathi Nair from Laramie placed first in Level II (grades 7-8), and Mason Trollinger from Ten Sleep School placed first in Level I (grades 4-6). Find more information, see the rest of the Wyoming winners and read the top letters on our Letters About Literature page.