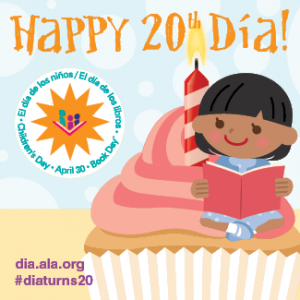 El Día de los Niños/El Día de los Libros is a celebration of children and reading across all language and cultures. While it is intended to be celebrated all year long, the culminating event is held annually on April 30. This year is the 20th anniversary of promoting literacy for all children from all backgrounds through Día. Check the Día website to discover a wealth of information, including the history of the celebration and how it came to mean what it does; booklists; and tons of suggested activities. Support materials include downloadable publicity, coloring sheets, bookmarks, and activity sheets.
Many different programs fit under the vast umbrella of Día celebrations at libraries across the country. The program registry on the above webpage allows you to publicize your own programs, as well as to look at what others are offering. Location, time, and descriptive information are provided. Registrations so far include libraries from Louisiana to Michigan and California to Massachusetts. There are no registrations yet from Wyoming, but there is still time to sign up.
See some of the programs libraries are planning over on the ALSC blog.