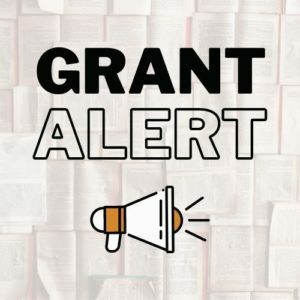 AILA/APALA Talk Story Literacy Grants
Deadline: March 15, 2023
Talk Story: Sharing Stories, Sharing Culture is a family literacy program that reaches out to Asian American and Pacific Islander (AAPI), and American Indian and Alaskan Native (AIAN) families and their intergenerational community members. Talk Story celebrates and affirms Asian, Pacific Islander, and American Indian intersectionalities through books, oral traditions, art, and more to provide interactive and enriching experiences. Four $500 grants are offered.
Wyoming Cultural Atlas Stipends
DEADLINE: March 20, 2023
Wyoming Humanities is asking your archive to help contribute to the long-term structure of the Wyoming Cultural Atlas project. The organization will award ten $2,000 stipends to institutions interested in digitizing never-before digitized work in any of the following areas: oral histories, poetry, interesting documents, art, photos, writing, and esoterica. Projects must abide by the State Archives' Guidelines for Creation and Preservation of Digital Files.
2023 ELC Pitch Competition
DEADLINE: March 24, 2023
Competition will award $10,000 total to the top five libraries (from $500 to $4,000) with a winning pitch for a library project that will contribute to local economic development, such as job creation, entrepreneurship, or local nonprofits. Public, school, special, and academic libraries from the United States and Canada are encouraged to apply to the third annual pitch competition of the Entrepreneurship & Libraries Conference (ELC).
Pat Carterette Professional Development Grant
DEADLINE: March 31, 2023
The ALA Learning Round Table (LRT) will award up to $1,000 to an individual to participate in continuing education event(s) between September 1, 2023 and August 31, 2024. The award recipient will be required to share their new learning with other Round Table members in some way (newsletter, blog, list serve, etc.).  This opportunity is open to everyone. You do not have to be an ALA member to apply. This grant, named after past-president, the late Pat Carterette, is designed to honor her passion for professional development in the field of library and information sciences.  A former staff development and continuing education coordinator, Pat believed in quality library service, leadership development, and continual learning.
T-Mobile Hometown Grants
DEADLINE: March 31, 2023
The T-Mobile Hometown Grants program will help fund projects to build, rebuild, or refresh community spaces that help foster local connections in small towns. Towns of under 50,000 population may apply for up to $50,000. Grants are open on a quarterly basis; next deadline is March 31, 2023.
Wyoming Humanities Spark Grants
DEADLINE: April 3, 2023
Spark Grants are available year-round to support public programs and events that draw upon the humanities to increase understanding of any aspect of the human experience. These grants, up to $2,000, are available for both program planning and implementation and require the involvement of a humanities scholar or expert. Spark Grant applications are due on the first working day of the month. For questions regarding Wyoming Humanities grants, contact Chloé Flagg at chloe@thinkwy.org.
STEM Special Event Grant
DEADLINE: April 11, 2023
Supports a special event to increase student engagement. The goal is to provide direct assistance funding to middle or high school libraries for special short-term projects or events that would engage students to promote STEM education and promote student interest in a career in the STEM field. The applicant must be a publicly funded middle or high school, grades 6-12, and have an existing campus library.
Toor Scholarship for Strong Public-School Libraries
DEADLINE: April 11, 2023
acholarship awarded to public school librarians who have created and implemented a local public awareness/marketing campaign that promotes and positions their school library as a necessary resource in the community, tying in the theme "Strong School Libraries." Ten $1,000 travel stipends will be awarded every other year for recipients to attend the biennial AASL National Conference and participate in a concurrent session panel.
National Book Foundation Teacher Fellowship
DEADLINE: April 13, 2023
Supports and celebrates 6th-12th grade teachers using innovative methods to make reading for pleasure a part of their students' school day experience, and aims to support classroom activities that have a direct impact on the development of students as lifelong readers, celebrate and highlight creative and effective models for independent reading instruction, and connect more young people with great literature through National Book Award-honored titles. As part of the Fellowship, teachers will receive a stipend as well as a book buying budget, develop or continue an initiative that promotes reading for pleasure in their classroom, incorporate National Book Award-honored titles into their curriculum, and collaborate with other Fellows through participation in a professional learning community, including an in-person convening in New York City.
Wyoming Arts Council Community Support Grants
DEADLINE: April 14, 2023
The Community Support Grant offers operating and/or project support and arts learning support for organizations that provide services to their community through the arts. Grant funding is available for programs and services that take place between July 1, 2023, and June 30, 2024. An organization is eligible to receive up to $10,000 in operating and/or project support and up to $5,000 in arts learning support for a total of up to $15,000 in grant funding. The amount of funding requested cannot exceed 50% of the total project/operating expenses and requires a 1:1 cash match.
Wyoming Humanities Crossroads Grants: Digital Media & Preservation
DEADLINE: April 14, 2023
Grants support the larger multi-year thematic initiative of Wyoming Humanities. Nonprofit organizations will be encouraged to explore the idea of growth through change and create programming and project opportunities that dig deep into themes related to Wyoming's identity, our sense of community, our connection to the land, unwavering persistence, and of course our ability to manage change.
EBSCO Solar Grants
DEADLINE: April 21, 2023
EBSCO Information Services (EBSCO) is accepting applications for grants that will fund solar installations at libraries around the world. $300,000 in grants are available to libraries looking to fund a solar project to reduce electricity costs. All academic, school, and public libraries that are current EBSCO customers are eligible to apply. EBSCO will pay for the initial installation through the grant. The library, town, or college will own the system and will be responsible for all post-installation/ongoing maintenance of the solar array.